A digital twin is a virtual model that is a counterpart and collection of digital data and is a real-time digital clone (or twin) representing a physical object. It refers to the working model of all components integrated and mapped together using physical and virtual data, and interaction data between them to make a fully functional replica of the system which works on a digital medium.
History of Digital Twin
The idea and model of the Digital Twin were formally advanced in 2002 by Dr. Michael Grieves as the calculated model basic Product Lifecycle Management (PLM). An example of a model by NASA built up an advanced twin to evaluate and reproduce conditions on board Apollo 13.
Components of a Digital Twin
It comprises the Physical and Digital Parts and the association between these components. It refers to the information that streams from the actual object to the virtual item.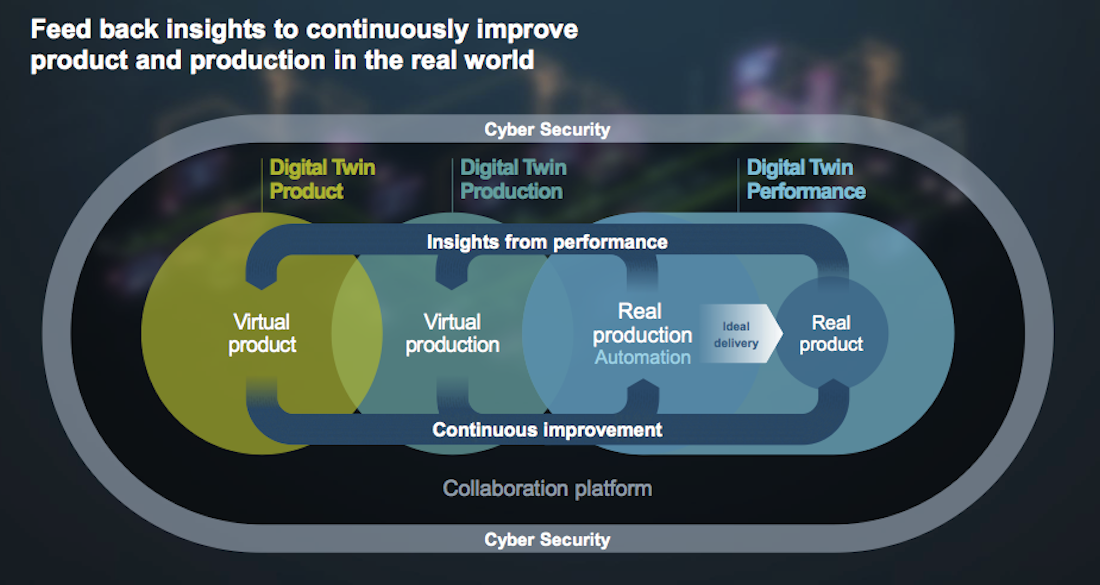 Uses of Digital Twin
It can help in visualizing items being used, by genuine clients, progressively. It helps to create and build an advanced string, interfacing dissimilar frameworks and advancing detectability software. It is used for refining suspicions with the prescient examination. It also manages complexities and links from one framework to another.
How is all this data collected?
The designers gather and blend information from different sources including physical,manufacturing,operational data, and insights from analytics software. The sensors are associated with the actual item that assists with gathering information and send it back to the advanced twin, and their connection assists with upgrading the item's presentation. It addresses the close to ongoing status, working condition, or position. It additionally utilizes the information from past machine use to factor into its advanced model. It is then applied with the examination, for example, natural conditions or cooperation investigation. It can likewise decide an ideal cycle that supports some key presentation measurements and gives gauges to long haul arranging which helps in enhancing the business result.
Need for Digital Twins
Digital twins and IoT (Internet Of Things) along with man-made consciousness assist us with dissecting information and screen frameworks to investigate and take care of these issues. A computerized reproduction can be quickly changed to exhibit corrections and to run recreations. This would assist us with no wastage of actual assets alongside time investment funds. It quickens improvement in different angles as well as assists with examining, notice and explore to consistently detail with such a lot of exactness. There is no space for mistakes and errors to guarantee the ideal creation yield. The computerized twin additionally causes specialists to chip away at the gear that is now in space and unavailable to them.
Applications
Manufacturing:

It can salvage cash and time both, which would somehow be squandered on creation. It includes testing the actual comparable includes shutting down production, losing profits.
Healthcare:

It can virtualize a medical clinic framework to establish a protected climate and test the effect of likely changes on the presentation of the framework. It can unequivocally decide the situating of leads that would work best on this particular patient that too before medical procedure diminishing the danger of disappointment.
Smart City Development:

It is this model that can test potential answers for issues like traffic to the executives. It is exceptionally worthwhile for examining the various types of transport and person-on-foot development designs and for sound arranging. For example, on account of a fire crisis, firemen can approach the 3D model of the structure. With the assistance of Augmented Reality and AI, firemen could realize where individuals are and how to anticipate fire's conduct.
Future Of Digital Twins
The worldwide market for digital twins is required to become quickly. Talking in numbers, by very nearly 38% yearly, coming to $15.7 billion by 2023, as per Markets and Markets research. Advanced twins hold the possibility to change medical services gigantically later on. They will permit the ability to push past the limits of medication and use information as an instrument to genuinely comprehend the human body. An advanced twin of urban communities is a likelihood that could make web crawlers equipped for discovering anything in the actual world. Many large names like Bosch, Microsoft, IBM, GE, and a lot more have begun putting resources into this innovation.
How does it work?
The twin is built with the goal that it can get the contribution from sensors gathering information from a certifiable partner. The twin could likewise be planned dependent on a model of its actual partner, in which case the twin can give input as the item is refined.
Mechanism of a Digital Twin Technology
A computerized twin contains three fundamental components:
Past information which 9is recorded execution information of individual machines, generally cycles, and explicit frameworks.
Present information that has continuous information from hardware sensors, yields from assembling stages and frameworks, and yields from frameworks all through the appropriation chain. It can likewise remember yields from frameworks for other specialty units, including client assistance and buying.
Future information that is composed of AI just as contributions from engineers.
How do organizations adapt to this technology?
Gartner predicts that by 2021, half of the major mechanical organizations will utilize advanced twins, which will convert into a 10% improvement in their productivity. The usage of a computerized twin isn't a cycle that can be finished for the time being. It will totally change these organizations. Thusly, organizations that choose to back this innovation should address the accompanying difficulties:
Monitor and digitize enormously industry measures that require an exacting coordination engineering and mechanical mechanization.
Multiply the limit of current stockpiling, the board, and information examination frameworks to deal with the volume needed by advanced twins.
Make the jump from advanced portrayals to dealing with different concurrent computerized duplicates with more prominent limit with regards to assessing elective situations.
Advantages of Digital Twin
Digital twins will change numerous cycles. Something that specialists, for example, Deloitte or KPMG previously anticipated in 2017 in their Industry 4.0 and the advanced twin and Beyond the promotion reports individually. One of the primary advantages is that they empower organizations to identify issues ahead of time and resolve them all the more rapidly. They can caution of any future breakdown, episode, or irregularity in their activity and cooperate, as HAL 9000 did, straightforwardly with people. They can even work independently by having the option to break down a circumstance, propose improved arrangements, and put them into activity.
At the point when an organization assembles an advanced imitation of its items, the conditions wherein they work, and the frameworks that produce them, it can anticipate essentially all that will occur in the actual world. For engineers, computerized twins are valuable in light of the fact that, having a point by point history of the past model, they can address mistakes and make new, more dependable variants. It can likewise offer the accompanying significant lifts:
Reduced danger in different regions
Lower upkeep costs
New business openings
More productive stockpile and conveyance chains
Improved benefits
Improved client support

Conclusion

With the fast development of IoT (Internet of Things) gadgets, the meaning of the idea of a computerized type of an actual article has stood out for people lately. Gartner assessed that before the finish of 2017, there will be almost 8.4 billion associated gadgets in light of which it is hard for the customary cycles and devices to comprehend the speed and volume of advanced information from IoT frameworks. It is a high level insightful apparatus that is the best one that conquers the downsides of customary devices. It drives substantial incentive for organizations, makes new income streams, and encourages them answer key inquiries. With new innovation capacities, adaptability, deftness, and lower cost, organizations might have the option to begin their excursions to make an advanced twin with lower capital speculation and more limited chance to an incentive than at any other time.

An advanced twin has numerous applications across the existence pattern of an item and may address inquiries continuously that couldn't be replied previously, giving sorts of significant worth considered almost incomprehensible only a couple years prior. Maybe the inquiry isn't whether one ought to begin, yet where one should begin to get the greatest incentive in the most limited measure of time, and how one can remain in front of the opposition. What will be the initial step, and how might you begin? It tends to be a mind-boggling assignment to arrive, however the excursion begins with a solitary advance.
Connect with me on LinkedIn